What to Know When Painting Your Home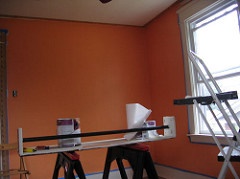 When you take on a project like painting your home, whether inside or out, there are some key points to keep focused on as you plan your project.
The quality of the paint you choose for your project are the first of these points. Quality varies significantly and you will quite likely get what you pay for. Savings in this area my bring disappointment with your final result. You must conduct independent research and not rely on the marketing material available. All paints are typically represented as of highest quality in their marketing, which can be a misrepresentation of the paints actual performance. The cheaper varieties tend to be less durable and the colors are less rich and glossy. The higher end paints will offer a more elegant final product.
Your next concern should be the quality of workmanship. If you're not doing the work yourself, you'll want to use a professional that has demonstrated expertise and has a reputation for honest business dealings. Do some research and educate yourself on what should be expected from a professional painter so you'll recognize if something doesn't look right during the process. Referrals will be of great value to you at this point; knowing how your prospective painters have done for others will give you an indication of what kind of performance you can expect. Armed with your new understanding of the painting process and having garnered references from your network, it will be less likely you'll be taken advantage of and more likely you'll be happy with the job once completed.
You final concern would be cost. With quality research you should be able to keep your costs at an acceptable level and still have good quality paint with a high standard of workmanship. Decide what you can spend and manage your expectations to fit your budget. With a sound plan in place and consistent management of the financial aspects, you'll be happy with your completed project.
Paint vs Wallpaper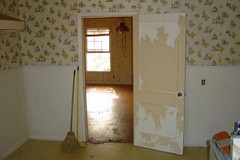 If as part of your refurbishing project you are debating perhaps placing wall paper in some areas, it's important to understand the differences and how they will impact some aspects of your project.
There are almost as many varieties of wall paper as there are paint color choices. From patterns and colors to a variety of materials like vinyl, foil, and cork, wall paper has the versatility to enhance any space aesthetically.
There are some additional considerations that must be taken into account however. Basically you'll find the differences between paint and wall paper are installation difficulty, price, and durability.
Painting a wall is generally less difficult than papering, however the surface to be treated factors in. If the wall is already papered, the old paper should be removed. It might be safer for a professional to do this as the chemicals and tools typically used in the process can damage the wall. At the very least, consult an expert and follow their direction. One of the advantages of papering is that you need not be concerned about small cracks and imperfections that the paper will cover.
Painting Your Home May be Less Expensive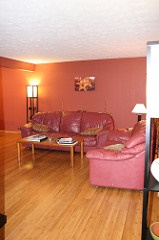 When painting you'll need to make some repair of any blemishes so the finished product doesn't show any pre-existing flaws. After performing repairs, let any wall filler dry for 24 hours before applying any new paint, and start with primer before putting down the new color.
Regarding the cost, it's generally less expensive to paint, however you can of course find cheaper paper that more closely matches the price point of an expensive paint.
The level of durability relies heavily on the room you want to paper. Spaces with high humidity or moisture in the air should not be papered, like the kitchen or bathroom. Use a high-gloss or semi-gloss paint in these rooms. The moisture may cause the paper to come unstuck. Wallpaper is generally more durable than paint in other rooms though, less likely to chip or need relatively frequent replacement.
You should also think about your family's lifestyle when making the decision. Kids or pets may be kinder to a vinyl wallpaper or waterproof paint because they're easier to clean.
The choice between wallpaper and paint largely depends on more than your personal taste, but is also affected by lifestyle, budget, time frame and desired durability.
---------------------------------------------------
ABOUT FANTASTIC FINISHES PAINT CO.
Our contractors are fully bonded and insured with
the expertise to perform whatever task you may
require, efficiently and with customer satisfaction
as their first priority.
Contact us today for a free estimate! (972) 672-2512