Leading Factors for Hiring a Professional Painter
There are projects like house painting when you are doing a home renovation that you can easily complete yourself. All you may need is paintbrushes, a can of paint, rollers and a do-it-yourself handbook or video and you are ready to go. The greatest issue with this type of approach is that you may begin the project and at some point it becomes obvious that you have made an error in judgement or you are too busy to finish it on time. You will be in danger of ending up with an inadequately done or incomplete job that will not just leave you with a mess but will cost you more money to finish as well; hiring an expert painter from the beginning typically is the better plan.
When you decide to hire a professional painter for such an important job you'll be glad you did. No more waiting till the next time you are free to finish exactly what you began a couple of days, or even weeks earlier. What you must realize is that professional painters are trained to perform this specific task and that is why it appears so very easy when they are wielding their rollers and brushes.
If you are attempting to repaint your house with the express intention of making it look more enticing, you should make certain that it is done by an expert painter, otherwise you will wind up with a result that most certainly will not impress. When you hire an expert painter, you will not need to invest any sleepless nights questioning whether they will do an excellent job; with their experience and competence you can be sure that your house will look brand new when completed.
Picking the right color can be challenging when you are doing such an endeavor; you need to make sure that the colors selected will complement the design and the decor of your house. When you work with a professional painter you can be sure that they will not let you pick colors that will clash with any other colors in your home. With the expert guidance of professional painters you can be sure to end up with an elegantly done house, not only in terms of design but the colors.
Tips for Finding the Right House Painter
Deciding to make sure that your house is painted with the most dynamic colors is every homeowner's dream, however the main issue is usually the best ways to get it done, and unless you understand the best ways to employ the very best house painter you may be disappointed. Whether looking for an interior or exterior home painter, you must make certain that you hire someone who knows their task well so that they help you to pick the paint color that will suit the different spaces in your home. There are essential factors to consider that you need to always keep in mind when you are selecting a painting contractor; finding any painter may be a simple task but being able to get the very best from many good professional painters is more difficult.
Request referrals: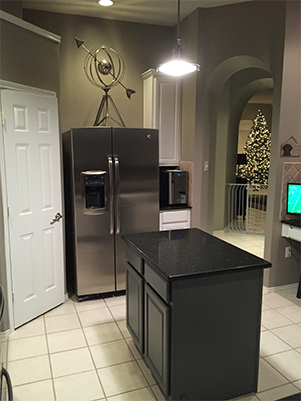 Since word of mouth advertising usually provides the best results, you want to start your search for a great painting professional by requesting referrals from your household members, pals or colleagues, particularly if they recently did a painting project. Since they are most likely to provide you the details of different painting contractors, put in the time to look at their different results and track record before you decide which of the many professional painters is most likely to meet your individual needs and expectations.
Ads:
Next you can inspect ads in the regional and local papers; you must have the ability to get a number of painters who have actually placed adverts therein. You might also wish to speak to any regional structure professionals, the local paint stores or property representatives and you can be sure that they all know some great professional painters that they can refer you to.
References:
You might desire to ask for references or even anyone that refers you to the particular painting specialist if they enjoyed the workmanship of the house painter and whether they would be happy to recommend them to anyone else. Ask the painter to provide you a quote of the quantity of money that project is likely to cost as well the time they are most likely to spend on the task.
Experience:
The best thing that you need to make sure is that your painter has comprehensive understanding and experience that will permit them to deal with your job without a lot of hassle and that they have the right tools and equipment.
Professional Painter is Your Best Bet
When you work with a professional painter you can be sure that they will not let you select colors that will clash with any other colors in your home. With the professional recommendations of professional painters you can be sure to end up with an elegantly done home, not just in terms of design but the colors.
---------------------------------------------------
ABOUT FANTASTIC FINISHES PAINT CO.
Our contractors are fully bonded and insured with
the expertise to perform whatever task you may
require, efficiently and with customer satisfaction
as their first priority.
Contact us today for a free estimate!  (972) 672-2512