What You'll Need for Painting Your Home
When painting the interior or exterior of your home on your own, you can go to the local home improvement store and find most of what you need at reasonable prices, however there are some supplies and techniques that will save you money in surprising ways, if you're painting your home yourself!
Basic Supplies
Yes, you can find durable and efficient paint brushes at Home Depot, however since in many cases, once you're finished with your project, there's a good chance you won't be painting again for a while. As such, inexpensive tools work best because you can just toss them when you're done. For instance, sponge brushes work very well and can be found at Walmart. Mid-range brushes can be found at a fraction of their typical cost at various discount stores. Watch out for those that shed bristles, you probably want to avoid going that cheap. Rollers are the same, less expensive options are out there, but watch for those that shed nap. Of the least expensive, try the mid-range. Typically they function well and can be discarded without guilt.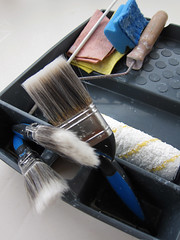 For a mostly smooth surface area, like you'll encounter when painting plaster or drywall, use a 3/8" nap roller or perhaps a 1/2", and for rougher surfaces like stucco or brick, between a 3/4" to a 1 1/2" nap.
You'll be holding the brush like a pencil, painting with smooth strokes, while feathering out the edges to prevent runs. Don't worry about getting a little bit of paint on the trim since you'll be painting that later, but try not to go crazy. In any case, you'll want to be sure your brushes can handle the work without leaving bristles or pieces of nap behind.
Paint trays are relatively affordable, but many prefer free! Try using plastic containers from other items you've bought in plastic packaging, like mushrooms or strawberries… just don't try to use those that have holes in the bottom. Plastic containers of this sort are small enough to be easily moved from place to place and hold sufficient paint to accomplish your task.
Primer & Paint
When it comes to primer, there are different types to cover specific types of challenges. For example, grease or water stains require a particular primer to ensure the stain doesn't bleed through. New drywall, however, need a primer that seals the surface.
With paint, expensive isn't always the best course. Some expensive brands will go on less professionally than expected, sometimes runny or thin with limited coverage. You'll probably find less expensive brands work as well if not better than the expensive brands, so shop around. Don't scrimp on the primer and be sure to purchase quality painters masking tape.
Clean Up
What you use for clean up depends on what type of paint you used, and whether you plan to keep your brushes and rollers for another project.
Oil Based Paints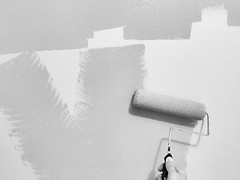 Cleaning these paints is particularly challenging. Many just discard their tools rather than try to save them. To clean them, you'll need mineral spirits, paint thinner or lacquer thinner. A cleaning comb or brush and two metal or glass containers with lids will also be required.
First, scrape excess paint off the brush and back into the original paint can, firmly securing the lid back on the can. Fill one of the containers with a bit of solvent, enough to dip the brush half way. The other jar will be for used solvent. As you dirty the solvent, switch to the new solvent jar. It'll take several tries to clean the brush. Local recycling centers can instruct you on how to properly dispose of the used solvent. When you have the brush as clean as you can get it, wash it with soap an water, reshape it and hang it to dry. If your brush has natural bristles, then skip that last step and just hang it to dry after cleaning with solvent.
Latex Based Paint
Scrape paint back into the can and affix the lid, then run the brush under warm water, using a comb or nylon brush to help remove the paint from the bristles. Hand cleaner can be applied then, to clean the bristles further, then rinse off. Reshape the brush and hang it to dry. Roller covers as well, although there's a 5-in1 tool for this purpose that is very helpful for removing paint under running water. Dry the roller in the upright position and store in a paper bag or cardboard box until you're ready to paint again.
Miscellaneous Supplies for Painting Your Home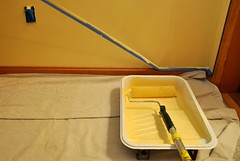 You'll need other supplies of course. You're ability to save money will depend on your imagination, however you need to make sure you get the right tools for the job. Painters masking tape, canvas or plastic drop cloths, caulks and sealants, various grades of sand paper, respirators, and miscellaneous tools to perform wall repairs that may be required will all need to be on hand as well.
---------------------------------------------------
ABOUT FANTASTIC FINISHES PAINT CO.
Our contractors are fully bonded and insured with
the expertise to perform whatever task you may
require, efficiently and with customer satisfaction
as their first priority.
Contact us today for a free estimate!  (972) 672-2512