Key Contracting Services to Employ

There are important painting and contracting services you should consider in maintaining your home or business property.
Some key points you should keep in mind
Paint selection
As any homeowner can inform you, choosing which paint color to use can be challenging. If your goal is to refresh the paint in your house, your contractor can help you enhance or match your significant design components, such as flooring/carpeting, window coverings, upholstery and art work. He'll also take into consideration other crucial factors like lighting, starting and ending points, bulkheads, sight lines and color flow from space to space.
If you're thinking of reselling, it's often encouraged to stay with neutral colors or taupe tones on the walls, and to utilize an off-white paint color on any trim work. This will brighten the overall look of the home while maintaining a modern-day and universally appealing appearance; prospective house buyers will be able to picture themselves residing in the home, the ultimate goal when selling a home.
Home repair and contracting services
Typically, painting only constitutes one piece of the puzzle. While having renovations done, you may find there are additional services required.  A competent contracting service like Fantastic Finishes Paint Co. Is able to offer a variety of services, for instance, commercial maintenance, deck staining, pressure washing, and even helpful consulting services for those that prefer to do it themselves.
Exterior painting tasks
Certain tasks are a little bit larger than the majority of us can manage ourselves. When your home or office needs exterior painting done, you will require someone with experience to ensure the job is done well.
The painter should start by preparing the surface of your home. Pressure washing, followed by removal of any remaining bits and completing small surface repairs, will eliminate most of the challenge. Dirt, mildew and mold are the major offenders here; they must be carefully removed in order for the paint to apply well and so that the resulting finish is of high quality.
As part of your project you should also check the caulking around all the joints and trim thoroughly. You will want to ensure it's all in excellent condition before painting.
A reputable painter will always show great care and respect for your office or home environment. They must always cover your furniture and floors prior to performing any work, keeping the area clean and ensure paint only goes where intended. Only the highest quality paint products should be used, and your contractor will be able to offer valuable advice in that area.
Fantastic Finishes offers a wide array of services and can be relied upon to complete any project professionally. For a free estimate or to learn more about available services, please visit us at FantasticFinishesPaint.com
Important criteria for a prospective contractor:
Years of experience
Make certain the professional you're considering has real experience doing the particular kind of work you require. Do not pay for somebody to learn as they go.
Accreditation
Official accreditation assures customers by offering a glimpse of a business's history of how it works with customers. When this kind of consumer defense exists, you must never ever merely rely on someone's verbal assurances. Fantastic Finishes Paint Co. is accredited with the Better Business Bureau.
Area of Specialty
Look for a business or contractor whose areas of specialty align with your requirements. Fantastic Finishes Paint Co. concentrates on exterior and interior painting for both commercial and residential properties. It also offers painting maintenance for business customers and services several institutions, nursing homes and government properties.
Variety of services offered
Look for a business that offers a variety of other home improvement services. As most in this industry know, these types of projects often lend to multiple stages of tasks. Fantastic Finishes Paint Co. is proficient in drywall repair and wallpaper removal; both are particularly handy skills for a painting contractor.
Referrals
Any qualified professional ought to be able to offer a list of referrals you can call. These referrals should have the ability to confirm the quality of work that was provided to them.
It's well known that "a worker is only as good as his tools," which is why this company only recommends and uses the best quality paints in the industry. We work exclusively with Sherwin-Williams® SuperPaint.
Expert paint suggestions from a successful local painting professional

With their wealth of experience, the contractor has lots of expert recommendations to share with clients. Here are the top three painting suggestions:
Use the highest quality paint.
Fantastic Finishes Paint Co. only recommends using what they regard as the highest quality paints on the market today: Sherwin-Williams® SuperPaint, it produces the superior results we insist upon.
Make certain to select the appropriate finish for the space you are painting.
The main distinctions you need to be aware of with regard to the finish, or sheen, are as follows:
Gloss: A hard and shiny finish, it's also the most light-reflective of your options. Gloss paint is easy to clean; you can normally simply wipe it down, making it appropriate for wood trim, cabinets, and doors.
Semi-gloss: Another reflective option that holds up very well. Good for locations that have to be cleaned frequently, like cooking areas, restrooms, utility areas and trim.
Satin: This finish has a slight shine. It does permit some cleansing, so it suits those high-traffic areas where scuff marks, spots, and nicks are likely to occur. Satin paint is a good choice for kitchens, children's bedrooms, hallways, primary entryways, and living rooms.
Matte and flat: These paint finishes absorb light instead of reflecting it. They also hide any surface imperfections that might exist. Matte and flat paint work best in adult bedrooms, or really in any areas where there will not be a lot of kid traffic, and on textured or irregular walls.
Keep your walls looking fantastic with careful cleaning.
Address the errant discolorations or scuff marks that are bound to occur as soon as possible to maintain the beauty of your walls.  A paste mixture of baking soda and water can be gently rubbed on the offending blemish, rinsed with a sponge and then dried with a soft cloth to eliminate them quite efficiently.
A grease-cutting dish soap and warm water is an excellent solution if the stain is more difficult to eliminate, like kitchen area grease.  You'll want to consult the product label before applying any mixture to the wall, or  risk causing more damage to the paint, but most grease-cutting products are relatively safe.
Ask the specialists: How frequently should I paint?
It's generally accepted that outside painting must be done every three to five years. The weather truly does take its toll on your home, and maintaining this schedule should help you prevent any significant challenges. With exteriors, mildew, dirt and mold are a concern, so a routine maintenance schedule is best.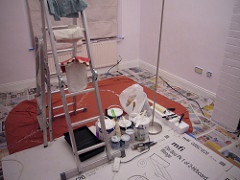 For interiors, about five to seven years is normally around the time when you'll discover a real accumulation of imperfections needing repair. It's also usually when you'll begin to discover your paint appears dull and no longer feels clean and new.
Obviously, these recommendations are suggested as a guidelines only. If more time happens to pass between maintenance and upkeep, it simply implies a little bit more work may be required initially, in the repair and prep or priming stages.
The use of high quality paint will extend the period of time that maintenance will be required, so keep that in mind as well as you determine what paint you will be using for your project.
Use these guidelines and consult with a reputable contractor, like those from Fantastic Finishes Paint Co., and soon you will be enjoying a fresh, new look for your home, inside and out!
---------------------------------------------------
ABOUT FANTASTIC FINISHES PAINT CO.
Our contractors are fully bonded and insured with
the expertise to perform whatever task you may
require, efficiently and with customer satisfaction
as their first priority.
Contact us today for a free estimate!  (972) 672-2512