Fix for Peeling Paint on Wood Surfaces:
Flaws will Disappear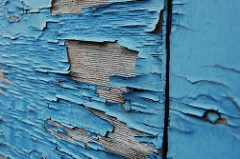 Sure, you can paint over old paint. The dilemma is those telltale edges. They are clearly visible in good light. For highly visible spaces, you will need all paint to be at the same level, presenting a perfectly smooth, flat surface. Before painting your home's interior or exterior, you need to handle existing paint issues. Unless you're incredibly motivated to strip your home entirely of every square inch of paint, you must consider spot repair of peeling paint.
Peeling paint offers a real challenge: it's too minor to call for stripping the entire wall but too significant to disregard entirely and paint over.
Certainly, you can always prime and paint over an area where paint has peeled off. So long as the remaining edges are secure, it will serve. But it's an ugly strategy, especially if you're dealing with peeling paint that is several layers thick.
For wood surfaces carefully use a method that fills in the depression with wood filler. It also helps preserve the edges of existing paint to ensure that they will be less inclined to begin peeling again.
Tools and Materials Required
You may have the tools and materials on hand to take care of any peeling paint. If not, you can purchase everything on this list for barely $30.
- Wood filler or wood putty.
- Putty knife. You'll need a bendable putty knife instead of a drywall knife, which is rigid, or some other alternative.
- Paint scraper.
- Wire brush.
- Sander. Either an electric orbital sander like a DeWalt sander or a manual sponge-type sander.
- WD-40. Optional. Use this to clean the wood filler from the putty knife.
- Primer.
Once you have your materials, follow these simple steps:
Scrape Away Loose Edges
Scrape away loose edges of painted area with your paint scraper.
Stop when it becomes too difficult to pry away the paint.
Wire Brush and Light Sanding
Sweep away any remaining debris from the area with a wire brush.
Work the edges once again. If paint starts peeling, go back and pry it away with the paint scraper.
Apply Wood Filler with Putty Knife
Put wood filler on your putty knife, and spread it across the area. A thin layer is sufficient.
Make sure that the wood filler extends past the perimeter of the area you are dealing with. Don't worry: this will get sanded away.
Be sure to bend the putty knife to create a flat surface. This bending effect is why you use a putty knife rather than a non-bendable tool.
Allow Wood Filler to Thoroughly Dry
After your wood filler has been applied, manufacturer's instructions recommend you let it stand 45 minutes to one hour.
2 hours might be best to ensure it's completely dry. Sanding before it has thoroughly dried, will cause it to slough off on your sanding sheet.
Sand Down the Wood Filler
Fine grit paper on your sander is recommended. You need to grind down the raised-up wood filler to the thickness of the layers of paint surrounding the repair.
Pressing too hard will take you right down to bare wood, in which case you will need to start all over again.
Sanded-Down Wood Filler
After sanding, the area should look smooth and even.
It may appear differently on other types of surfaces if the board has vertical cracking ridges or other textured features.
If you have a similar circumstance, you may find yourself hesitant to sand through those ridges for fear of sanding out wood filler.
If this were a highly visible area, it might be best to replace the entire area altogether.
Once you've completed the process and it has been primed and painted, it will look great.
Apply Primer to Sanded Area
You'll need to prime the dried wood filler before painting.
After painting, it should be flawless and blend in with the rest of the painted areas.
Fix for Peeling Paint
In conclusion, if you're doing the painting on your own, there are several things you will need to do to ensure your job looks as professional as possible once completed. However, you'll find the most effective method of achieving the picture-perfect results you imagine when planning your project is to let the professionals at Fantastic Finishes Paint Co. do the work for you!

ABOUT FANTASTIC FINISHES PAINT CO.
Our contractors are fully bonded and insured with
the expertise to perform whatever task you may
require, efficiently and with customer satisfaction
as their first priority.
Contact us today for a free estimate! (972) 672-2512