Painting Contractors, Frisco TX
If you've been searching for superior services in house painting contractors in Frisco, Tx, we have your solution! Fantastic Finishes Paint has been in business for over 15 years, with their primary focus on achieving 100% customer satisfaction as the cornerstone of their business model. With affordable pricing and attention to detail, these fully bonded and insured Frisco painters will treat every home as their own. We believe you'll be delighted with your results, so much so we offer a limited 3-year warranty on all our work!
As Frisco painting specialists, extra care is taken with each job to ensure our customers will be worry free and thrilled with the outcome.
The Benefits of Using Painting Services
Painting your home is important, and hue is an indispensable part of the operation. Without facade hues, you're viewing wood, bricks, and cement. Rejuvenating your property by using updated paint is low-cost and makes a big impact to the visual appeal of your home, both interior and exterior. Painting your Frisco home with complementary shades creates a positive image and articulates your personality and style.
Painting projects require the use of good common sense combined with precise technique, employing your imagination and your (or your painter's) knowledge to combine shades appropriately.
Painting services may be performed on any portion of your Frisco, Texas location, whether a solitary space or full home. Painting not only helps to make your home beautiful but it also defends it from water, dust or any other detrimental effects which take away from the comprehensive aesthetics of your home.
When it comes to painting projects, the course of action should be refined. Correctly done painting can entirely transform any space, providing an excellent addition to your home. It is typically undertaken by the homeowner simply because they feel they know best what schemes to opt for and can use their ingenuity. They think painting isn't that challenging or would need any particular degree of training; however, there are a few specifics of painting that need to be taken into consideration which might call for some support. Many painting resources are offered online which would help you tremendously, or you can benefit from locating local painting services.
It is imperative to choose the proper painting services, using accredited Frisco, Texas painters to make sure that they have the know-how to attain the effects you're looking for using chemically reliable paints at an acceptable price. If there is a particular timeframe necessitated for the successful realization of your residential or commercial painting project, then make certain to incorporate those specifics in your contract to make certain it is fulfilled. Whether you decide to accomplish the painting project by yourself or with the help of local Frisco painters, you'll discover services available to support your efforts.
Exterior Paint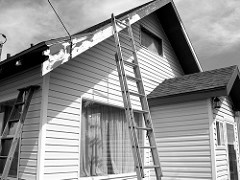 When painting a residential or commercial property, start with power washing existing surfaces, ensuring they are free of debris. Our Frisco contractors make sure their completed painting project will last years, with no evidence of prior damage. Siding, trim, and old caulk showing the wear of local Texas weather will be replaced, and new 45-year caulk will be applied around all entryways, windows and newly applied materials.
A tarp will be put in place to protect your belongings, windows, and brick from any painting over-spray, and painters tape will be used where applicable to create sharp lines. Sherman Williams' SuperPaint with its 25-year paint warranty is all we use, with choices available in Flat, Satin or Gloss finishes.
Selecting the Ideal Paint Hue
The outside of the home is prone to weathering and other challenges and should be preserved vigilantly. As such, there are ample chances to adjust your choices, creating a unique appeal for your home. You can acquire assistance from expert color consultants from painting companies if you would like some fresh ideas. While deciding people often invest in many specimen shades, however sometimes, the more possibilities, the more confusion. Avoid any confusion by permitting your painter to walk you through choosing the best shade with the following guidance.
Contemplate the look of your Frisco, Texas community
Your home exteriors ought to complement the surrounding residential neighborhood. If the neighborhood is conventional with a specific landscape design, choose hues that blend satisfactorily with the existing view and if the colors in your area of Frisco are distinctive, you may be free to take a more eclectic approach.
Use charts and palette combinations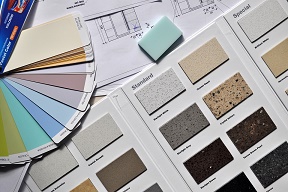 You should initially have an idea of what you are looking for. Be it the tones or the textures, having a basic idea of what you want is very important. Then you can shortlist a few possibilities and take ideas from your painter to reach a final decision.
Surveying the aspects of the home's exterior
Take time to walk around, try to imagine what you have planned and how elements would turn out looking. Having a vision will clarify the undertaking and aids you to manage expectations. Free your imagination!
Don't mess with the fundamental architectural design
Frisco, Texas homeowners will often have something in mind while designing their home however they should not attempt to change the underlying framework of the home. Also, shade selections should be appropriate for the architecture. For example, if your home has French windows, painting with bright oranges and blues may not be the best option.
Invest in samples

Nothing can be decided until you test your options, so buy some specimens and try them in various parts of your project to get an idea of how they'll look. . Then you can settle on the one that looks like the most suitable possibility.
Accept painting help
If you are completely exhausted and overcome, get aid from specialists with years of experience. Although this entails a small investment; it can rescue you from frustration or making a poor decision. Get an estimate, and you'll find it's more affordable than you may think.
Points to Consider When Hiring an Painter
If you determine you need to transform the look of your home, get the paint redone. Among the simplest, least costly, and most refreshing means of giving your home a make-over is to improve your palette of tones.
Interior Paint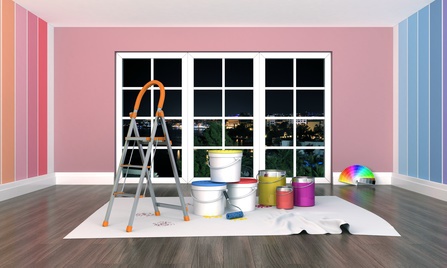 To repair and paint the drywall of your home, there are additional precautions our painters must take to preserve the condition of your home.
Rooms will be effectively sealed off with tarps, isolating the area we're working in and protecting floors and belongings. If necessary, our contractors will relocate your furniture to a safe location and even take down the draperies before painting.
Before our contractors get started painting, they'll do minor drywall repair and spackle any holes, texture where needed and apply any necessary caulk. Once painters tape is applied to all the difficult spots, ensuring straight, sharp lines, our painters will hand roll and brush the walls. All doors and wood trim will be hand painted, using your choice of top quality Sherman Williams paint.
When the area is ready for inspection, the contractors will remove all evidence of their efforts, discarding tape and taking up tarps, then will accompany you on a walk-through ensuring your 100% happiness with their workmanship before departing the site.
Consider these simple points for best results.
Prepping for the paint
Preparing your walls and presenting a clean foundation for painting is the most important step in the process of repainting. Redressing any chipped paint, removing the dirt and stains, performing repair where required, application of putty to any damaged drywall, etc. are some of the points that must be addressed before painting.
Lead paint
If your home is older, you should ascertain if your interiors are painted with lead paint. Years of original layers of lead paint will need to be removed from the drywall, and this can only be done safely and securely by a painting company with practical experience and knowledge about this operation.
Hiring professional painting contractors in Frisco Tx

Hiring a licensed professional with any necessary certifications guarantees good, quality work at most cost-effective rates, done in a timely manner. They will also sign a contracted estimate where all terms from painting expenditures to the schemes planned for use are detailed, managing expectations for both you and your contracted painter. Give us a phone call today!
Covering supplementary costs
Various details are inclusive and exclusive of the estimate a painter offers. You must be certain that you don't have services performed outside your contracted services that could potentially impose a supplemental charge. Adhering to what is specified in the agreement is best for both parties.
Choosing a paint family
Different hues have different outcomes once painted on the walls. For instance, a dark shade would make the space seem smaller, and you might need to continually keep the lights on to enjoy the room. In comparison, if you select light-toned and natural shades or textures, they'll make the space brighter and seem more spacious.
Choosing a finish
Selecting a finish is the final factor to address when painting. A particular coat is added and should complement the texture and lighting in the space. It can be matte or glossy, depending on your preference. Choose accordingly, however, take guidance from your painting services as well.
What to Look for Regarding Commercial and Residential Frisco Painters

What would you consider a painting company? Well, it doesn't take much more than a brush, bucket and ladder to get into the painting business; however, no one would intend to pay a painter to do a bad job, right? Anyone wanting a painter for their residential or commercial projects are seeking an individual who can offer a quality experience from beginning to end, on your terms. Most of all, you want the kind of final results you can be proud to show off.
Using an experienced painter can take the worry out of painting your home, but choosing one can be a nerve-racking chore in itself. Discovering the best contractor is a vital decision calling for cautious consideration. Before you base your selection on price, you really should do some research on them. Get more than one estimate before deciding.
There are typically two kinds of painters you will find: paycheck painters and professional painters. These are painters who may just have a few months of painting practical experience with minimal product understanding even less about customer service, bidding, estimating, or what it takes to produce a quality final product. They view your job as a payday instead of developing a long-term partnership.
Meanwhile, professional painters are invaluable. They not only save you time and money but also provide quality service and will develop a long-term relationship. Give us a phone call today!
Clean Up
When the project is finished, we'll tidy up! All tape, trash and coverings are removed from the work site, with nothing but the completed refurbishing of your outside façade left behind! Our contractors will walk the job with you before leaving to confirm complete happiness with the finished project.
ABOUT FANTASTIC FINISHES PAINT CO.
Our contractors are fully bonded and insured with
the expertise to perform whatever task you may
require, efficiently and with customer satisfaction
as their first priority.
Contact us today for a free estimate! (972) 672-2512
Phone Fantastic Finishes Paint Company, we're the total home solution for your painting challenges in Frisco, TX.